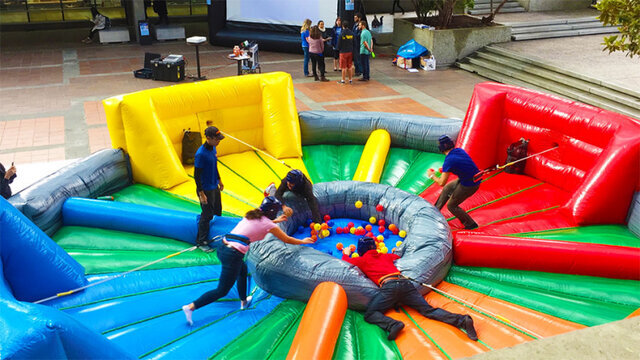 Hippo Hunger Attack!
Actual Size: 40' diameter x 8' H




Play one of your favorite games in real life! This awesome Hungry Hippo's Giant Inflatable game from Party Rock Inflatable allows you and three friends to compete in a life-size Hungry Hippos game! Compete against friends to gobble up as many of the balls as you can while attached to a bungee cord!
Our Hungry Hippos interactive game is best for kids that are 7 & up Adults love to play this fun competitive game! Since more than 1 person can play at a time we recommend this for events with larger crowds, such as school functions,church events and public events.

Object of the game: Once the referee blows the whistle, each of the 4 players starts from their back wall and races to the pond of balls in the center of the game to retrieve as many balls as possible and return them to the mesh bag at their starting wall. Once all of the balls are chowed down, the player with the most balls in their bag is the winner.

Dimensions: 40'L X 40'W X 8'H

Electrical Requirement: (1) 20 amp 110V electrical circuit