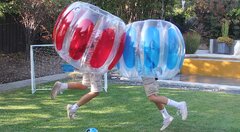 Bubble Ball Soccer Game
This is the original Bubble Ball (aka Knocker Ball) business in the State of Florida that has been featured on FOX 13, Bay News 9 & the Tampa Bay Times. We are based out of Oldsmar in the upper Tampa Bay area and travel to you.
What is Bubble Ball Soccer?
Bubble Ball Soccer is a fast-growing sport in the U.S. and we were the Third Rental Company in the state of Florida. This is an exciting twist on the traditional game of soccer, you will be wrapped in a giant, soft inflatable "Bubble Ball" with shoulder harnesses and handles inside. Get ready to have a blast! Once you strap one on, you will have a hard time not laughing as you bump into opponents while trying to kick the soccer ball into the goal.
Plenty of fun for players and spectators. Have fun getting together while staying apart so come on out for a little social collision 'ing. We use natural disinfectants to mitigate any allergies or other concerns.
Bubble Ball Soccer & our other Bubble Games like Walking Water Bubbles Pool are perfect for a variety of parties:
Business Team Building
Athletic Team Conditioning
Church or Corporate Family Events
Family Reunions
Bachelor(ette) Parties
Festivals and Fund-Raisers
You name it, just get outside and have fun!